ECTA's Responsible Care Program - Article
RC Commitment and Practical Examples
Lexicon for the RESPONSIBLE CARE Article
What are the mutual Benefits for ECTA Responsible Care Members and their Customers?
Responsible Care (RC) is a worldwide initiative developed by the Chemical industry and it is a commitment to continuous improvement in all aspects of safety, security, health and environmental performance.
The ECTA RC program is a key pillar of the ECTA vision and enables its ECTA members to make a strong contribution to sustainability.
ECTA's Responsible Care program itself is based on a standard set of requirements of Responsible Care from the Chemical Industry. These requirements are formally translated into the ECTA RC program and included in the ECTA RC Commitment Document that each member's CEO must sign when joining the ECTA Responsible Care program.
ECTA has built up a system of easy-to-use reporting forms to facilitate the following topics for the RC members.
Responsible Care Reporting Forms
Easy integration of the RC elements within a company´s management systems
Uniformity across the chemical industry
The choice of inclusion of all necessary HSSE/CSR aspects
Automatic and integrated steps of continuous improvement built in
Fully link up with other overall system requirements for instance legislation, SQAS, OCS, specific customer requirements
To create more transparency for all stakeholders
Fully and properly applied, the ECTA Responsible Care member has a control tool in hand that can form the basis of all HSSE/CSR internal and external communications.
ECTA RC members are committed to use the ECTA annual KPI reports to demonstrate improvements and trends in their operations. The reports are an excellent source to prove the company's commitment to sustainability and responsible entrepreneurship.
Appendix A: ECTA RC 2025 Commitment Document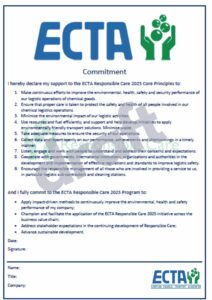 Appendix B: Practical examples I
How can ECTA members link their ECTA RC Membership to their own HSSE management system and have opportunities of increased efficiency?
RC Annual Improvement Plan
An ECTA Responsible Care Program requirement is that all RC members must send in their RC Annual Improvement Plan. The items in this Improvement Plan are linked to one or more of the ECTA RC Core Principles as included in the RC 2025 Commitment Document. ECTA provides a standard Improvement Plan matrix and each member is free to use this format or used its own equivalent design. The Improvement Plan is also used for intermediate reporting to ECTA to confirm progress – and finally it is used as an end-of-year report. Any open items in this end-of-year report are carried over to next year's RC Improvement Plan. Typical examples of an Responsible Care Annual Improvement Plan are:
Periodical Defensive Driving Training, with a positive impact on the safety, health and environmental performance of drivers (RC Core Principles 1, 2, 3 and 4)
Promote the company's compliance to RC Principles to its subcontractors as well (RC Core Principle 9)
Ensure that the management system reports provide a continuous, up-to-date and transparent picture of the company's RC implementation. So it can be shared with all stakeholders (RC Core Principles 6 and 8).
The annual RC KPI Report requires ECTA RC members to report their incidents of the previous year in various categories. For instance, injuries, spilled product, splitting the totals between locations such as at loading sites, at unloading sites, or in transit.
These data can be excellently used by the reporting company to analyze their trends over the years. Comparing them with the consolidated figures which ECTA provides in its annual report, ECTA RC members can benchmark their performance with representative figures from a large share of European chemical logistics.
Appendix C: Practical examples II
How can our members' customers benefit from ECTA's Responsible Care program?
ECTA's RC Program is directly derived from the Responsible Care initiative of the chemical industry. The RC Core Principles are translated to apply for logistic activities, thus making the ECTA program of an easily recognized nature.
In the SQAS modules Core, Transport Service, Tank Cleaning and Warehousing, ECTA have created 2 templates (basic and advanced levels). The SQAS questionnaires all contain identified questions of both levels providing additional improvement opportunities. ECTA RC members are required to score positive on all SQAS questions identified as RC Basic Level before they are accepted as RC member. 
Chemical companies, by using SQAS, have an automatic template built into the completed questionnaires for their use. This makes analysis of individual company results and benchmarking of more companies simultaneously easier. Furthermore it provides a tool which can be expanded in a simple way to include risk areas or questions related to the specific activities or products the assessed company provides logistic services for.
Individual chemical companies can use RC as a tool to address specific items of their interest. Over the past 10 years the examples are numerous that specific matters were discussed and followed up between a chemical company and ECTA directly or via the European Chemical Association Cefic.
The most obvious advantage for ECTA RC members is the allowance to use the Responsible Care logo on their company website and communications. This enables customers and other stakeholders to recognize the efforts in safety, security, health and environmental performance.
MORE ABOUT RESPONSIBLE CARE
Become an ECTA responsible care member now