The enhanced eECD 2.0 industry solution
As communicated earlier, the existing paper based EFTCO Cleaning Document or ECD with its 4 fold carbon paper copies, is no longer future proof. The paper ECD was created back in 2005 by the three industry associations Cefic, ECTA and EFTCO and evolved as a chemical industry best practice solution. As of 2023, and supported by ECLIC as technological, independent, not-for-profit organization,  it is time for a full digital transition to the eECD 2.0 solution.
Over the past 3 years, ECLIC together with more than 50 companies consisting of cleaning stations, carriers and shippers have been co-funding, co-developing and testing the eECD 1.0 prototype solution in a digital collaborative, closed loop process. This digital eECD 1.0 solution has meanwhile proven to be more sustainable, saving time and costs by reducing the equipment rejects at loading sites and by reducing product cross contaminations through the means of digital transparency.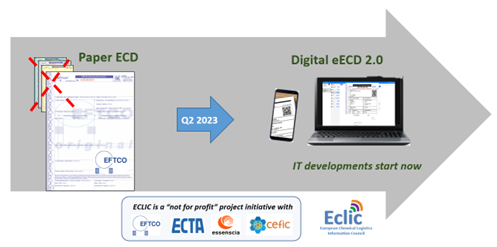 As of this month, ECLIC is ready to bring its existing eECD solution to the next level and starts the IT development of the enhanced eECD 2.0 industry solution. Today, with the current eECD 1.0 solution, actors need to all agree to work digitally together in a closed loop process from cleaning to loading an equipment. This existing collaborative process has the drawback that one actor can block the other in case an actor is not ready or is not willing to make the digital transition yet.  Within the new eECD 2.0 process, that problem of coexistence between a paper and digital is resolved and the future eECD 2.0 version will have a unique QR code printed on a valid paper copy so each actor can decide to use the digital eECD 2.0 paper copy or the full enabled digital solution. To further show the value of using the digital process above a paper ECD, the eECD 2.0 solution will have an eECD compliancy score which is accessible via the QR code.
While paper ECD's have been the norm up to now, this upgrade towards the new eECD 2.0 solution will allow a faster digital adoption and transition and strives for one uniform digital way of working across all actors in Europe. The plan is to launch the eECD 2.0 solution as of Q2 2023. ECTA-EFTCO and Cefic-essenscia are encouraging their members already now to prepare themselves for this eECD 2.0 solution. We expect the eECD 2.0 solution will further provide the best option for its users to increase efficiency, result in a better environmental performance and form the basis to become best in class.